These keto chocolate and peanut butter balls recipe is gluten-free, flourless, and vegan! 
Each ball is a sweet peanut buttery and chocolatey treat consisting of 24 grams of protein and only 280 calories apiece.  
Try this recipe with a FREE Protein Milkshake Sample.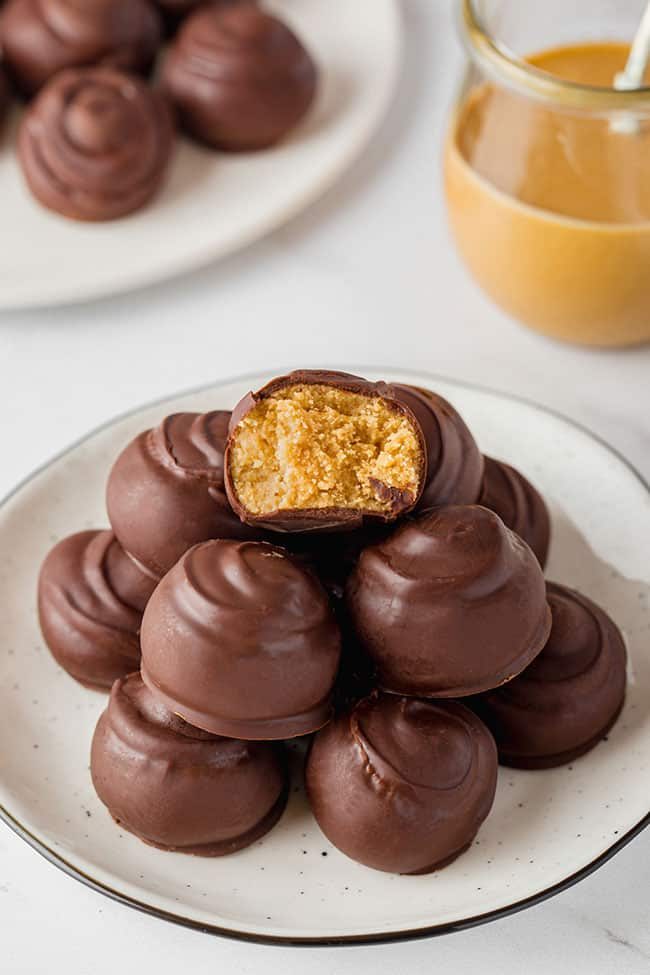 It actually detracts from the peanut butter flavor less than graham cracker crumbs. That means these have a more peanut buttery flavor!
These peanut butter balls melt in your mouth – as long as you follow the recipe and don't add too much coconut flour.
One thing I really love about these healthy peanut butter balls is how quick and easy they are. They just call for peanut butter, maple syrup, coconut flour, vanilla and salt.
And of course, there's chocolate + coconut oil for the coating!
Substitution questions for these healthy peanut butter balls? Can I use something instead of peanut butter?
We've tried making these healthy chocolate and peanut butter balls with sunflower seed butter for a paleo version- however if you do this, remember to add in more coconut flour to keep the texture firm. 
Because of the huge difference between the two nut / seed butters, I can safely say that every nut butter will require a different amount of coconut flour.
So while you can use whatever type of nut butter you'd like (as long as there's no added fat or sugar), you're going to have to experiment with the amount of flour.
Start off with the amount of coconut flour listed below and if it's still liquidy, like the sunflower seed version was using that much flour, add tablespoon by tablespoon until it's not. Keep in mind that you'll put the mixture in the freezer a bit to help roll them into balls so the mixture won't be rollable at this point.